Cowman – Half Ironman Triathlon
Kicking off this week's Tri news is Hannah Mclnroy-Naylor's own account of her outstanding victory at Milton Keynes 'Cowman' Triathlon.
I exited the swim in third position, but left T2 before the lady who was in second. I expected her to overtake me at some point, but I never saw her again. I had a small hope that perhaps I could bike up towards the first lady but had no idea how far in front she was. Each loop of the bike (covered twice) had a 1.8km hill about 20km in, which they had set up timing for a KOM/QOM segment. About halfway up the hill I saw a competitor with 'Ali' on the bum of her trisuit ahead of me. I thought it might be a female, and I seemed to be catching up so I carried on pushing a big gear. Sure enough it was a lady, and suddenly I thought I might be in first position. As I went through the first 46km loop the marshalls confirmed this. I have never led a race or been a high position on the bike before so this was a real surprise!
I usually run my way through the field but very quickly I realised that my running legs had not joined me today. Three and a half months of no running had taken more of a toll than I thought. Any attempt to chase Jenson Button, who was also racing, was going to be futile! I spent the whole run trying to keep going at any pace, however slow, up the hills, and to regain any lost time on the 1km downhill section. On the third of four laps I was told that I was being chased down (and fast!). I was going to have to dig in and just get on with it, rather than moaning about how much it hurt. I managed to regain a minute in my final 5km lap and finished just 28 seconds ahead of the second lady.
It was by no means a perfect performance, but I was so pleased with the result. I also found out that I won the QOM prize which was the fastest split up the hill out of both the Cowman and the Calfman (half the distance) races. All those club rides, and the occasional Espresso must have done something for my bike fitness!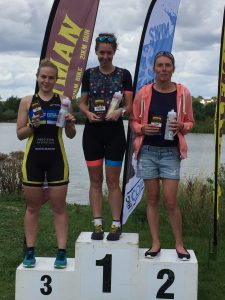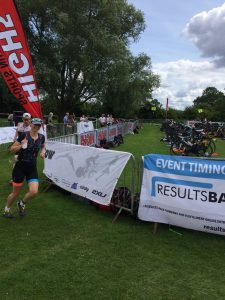 Click here for full results Cowman
ETU Qualifier at Grafham
4 Wheelers made an early start at Grafham water, competing in the European standard distance qualifier.  Scott Williams, Ray Reeves, Laura Brown and Helen Samuel were all trying to book their GB place for next year's championships in Estonia.
The 600 strong field saw 4 waves off several minutes apart.
Laura was able to secure her GB place with an impressive 3rd automatic qualification slot whilst the other 3 all performed well enough to be eligible for roll down. (Your finish time has to be within 120% of the winner of your age group).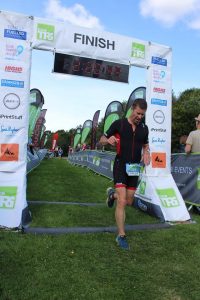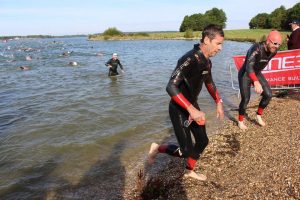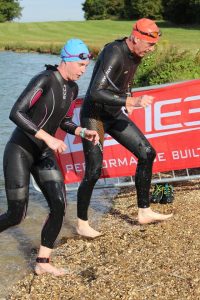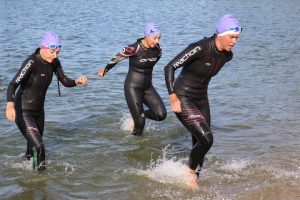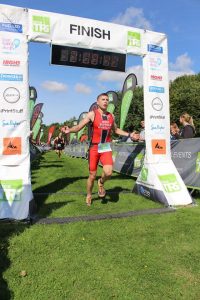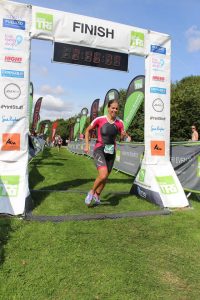 Click here for full results Grafham
Culford
The second of this year's Culford Triathlons saw 5 Wheelers take on the 300m swim, 21km bike and 4km run.  Julian  Long was our fastest finisher in a fantastic time of 56:25.  Niki Broad, Conrad Burgess, Lisa Andrews and Amanda Stephenson-Wall should be extremely pleased with their performances, all smashing their times from the June version of the event.
Click here for full results Culford
As ever, please let me know of any results, write ups or photos of your Triathlon achievements using the usual email – triresults@westsuffolkwheelers.org