Six Wheelers together with supporters (two legged and four) travelled to do battle (play) at Misterton Hall, Leicestershire in Round 6 of Leicestershire Cyclocross League hosted by Mrs Craven and Welland Valley Cycling Club. The day started out misty in Suffolk but on arrival at the venue the sun shone brightly. What a fantastic location, the course careered around the grounds of the hall, over a bridge crossing a picturesque lake, along a paved promenade then winding its way up and through woodland, meandering back and forth down a very large paddock, some technical twists and turns then a slog through the mud to the finish. Some were very pleased that there were no forced off the bike features, well not intentional anyway!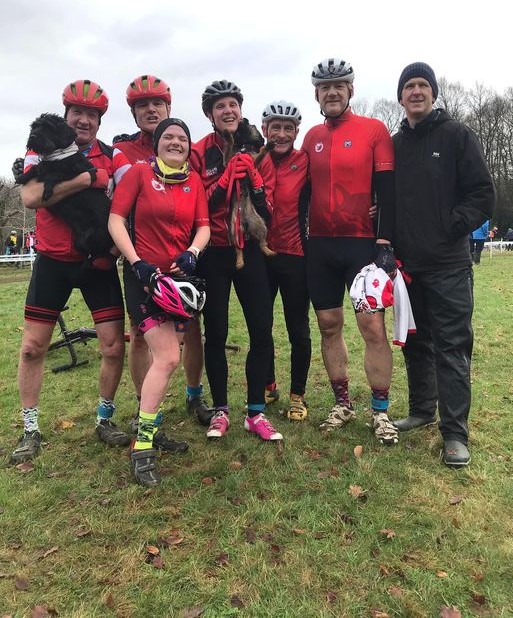 The course was very fast in places and a bit of a slog in others but thoroughly enjoyable judging by the smiles on the faces at the end. A really friendly atmosphere with Wheelers getting shout outs by the commentators as they passed. I was wondering how they seemed to know our names but found out that later our supporters were so vocal and enthusiastic in cheering us on that they had to ask them who was getting them into a frenzy.
We all raced together with the ladies' race starting two minutes later. All the Wheelers started at the back of the grid with a field of 110 Men and 42 Ladies. The representatives were Peter Golding (Pre-Race Excuse (PRE) "I competed in the Nationals at Skipton yesterday") Peter shot through the field making light work of the conditions to finish 25th overall. With his boyish looks he was classed as 50 to 59 but he would have been 4th in his category. Adi Grimwood (PRE: "I wish I was fitter and trained more"); with Adi's usual grit he slowly powered around the course gaining positions every lap finishing 66th. Karl Hale (PRE: "well I've had a really bout of bad luck, I fell off my bike a few months ago, hurt ribs and my leg, then I got Covid and I'm feeling weak and I'm really not enjoying my food now as I can't taste it") Karl finished 74th having been whooped by Peter, spanked by one of the remaining members (we'll come onto that), ground down and passed by Adi, barely keeping ahead of the remaining two only to find that on aggregate was beaten by one. He did feel it was a cracking race though! Nick Rush (PRE: "I fell off some scaffold planks yesterday and it's a long way from Suffolk. Where are we?") Nick the only member to be sporting the new limited edition West Suffolk Wheelers Centenary top – available at Maglia Rosso at a great value price – held his own, ploughing through the field taking many scalps on the way and so grateful that he didn't have to get off and try and run at any time came a respectable 87th.
Laura Prime (PRE: "Well I don't really do a lot of training now, oh I did have a little run the other week and I do take 'Mayzie' for her walks") Laura came 3rd in the ladies race obliterating her field of contenders and a majority of the men to boot. Not only was she passing them she was passing them with ease and even managed to give a little slap on the bottom of Karl as she blasted through (Now she claims she was aiming for his back but as where she hit was such a large target she couldn't miss it – Cheeky! Excuse the pun). Megan Free (PRE: "I did a really hard Tri session yesterday, Ray Reeves really beasted us, I'm tired and I haven't had my fill of Jelly Tots yet") Megan came in at 15th in the overall Ladies race and 7th in her category. Despite the screams she conquered the technical bits showing great confidence and then a strong push in the leg zapping sections of the race.
The day was finished off by a group photos taken by our devoted supporters, Teresa Rush, Sara Hale, Giles Prime, Mayzie and Hugo then lunch at the venue mainly consisting of very large pulled pork rolls, very tasty. The Organisers want us back again next year, perhaps we can go up there on mass as it was a fantastic grand day out.