With several events over the past fortnight, there is lots of success to report.
We start with the Cambridge Junior Triathlon on Sunday 24th June which saw  21 Wheelers taking part.  Making his debut at Cambridge in Tri Star Start was Logan Marsh with Isabel Moore, Kiera Broad, Zack Broad, Megan O'Brien, Sam Brook, Ella Stewart and Sam Blackwell in Tri Star 1.  Putting in one of the performances of the day was Jess O'Brien in the Tri Star 2s, closely followed by Izzy Woodward, Jonathan Etherington, Evie Flux and Jonathan Hutchings.  Tri Star 3 saw Thomas Verzijl, Dylan Marsh and Sophia Sauvage also representing the Wheelers with Oscar Woodward, Kirsten O'Brien, Stephen Herlihy, Annalise Verzijl, Rihan O'Brien, finishing off our compliment of youth triathletes.  Excellent performances all round with Sam Blackwell and Isabel Moore on the podium in 1st and 3rd respectively.
Click here for full results – Cambridge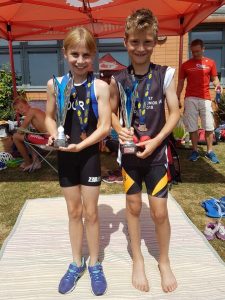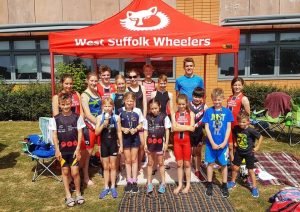 1st July was another sizzling Sunday with both juniors and adults in action.
Race report Holkham Outlaw 70.3 Triathlon.
Four wheelers raced at Holkham Outlaw 70.3 – Annie Mackay Drugan, Hannah McInroy, Malcolm Macfarlen and Ray Reeves.  Weather conditions were punishing with a stiff wind and temperatures of 25c.  The day's race was aboutt managing pace, power and body temperature. The swim in the lake at Holkham hall was 1.9 km long, consisting of a one lap swim. Then into T1 for the bike leg. With a field of some 1500 triathletes finding the bike would be a skill on its own.  Once mounted we started the 90km TT, around the towns and villages of North Norfolk passing Sandringham ( but never saw her Majesty).  Feeding on the bike is essential at this distance, or you will have no energy for the run. This was made slightly harder by the stiff head wind on the homeward leg. T2 again posed the issue of now having to find running gear, that may have been accidently moved by other competitors, but find them we did, and set off on the Half marathon which was three laps around the estate, each of 7km in length. Pacing, feeding and cooling were the essential skills for racing in the midday heat.  All finished strongly with good age group positions and some big PB's.  Julie Reeves raced in the Holkham 10km race on Saturday, also in strong winds and high heat. Julie who due to illness, probably shouldn't have raced at all finished in 1:16 min
Click here for full results – Holkham
The same Sunday saw our home Junior Event.  Denise & Neil O'Brien put on another outstanding event, assembling a team of trusty volunteers.  Extremely hot conditions didn't deter our youngsters from more fantastic performances.  In Tri Star Starts were Logan Marsh and David Lupsa.  Tri Star 1 Wheelers were Sam Blackwell, Zack Broad, Isabel Moore, Kiera Broad, Ella Stewart, Megan O'Brien and Freya Dunn.  Tri Star 2s were Thomas Hutchings, Jonathan Etherington, Jess O'Brien, Evie Flux, and Izzy Woodward.  The 3s were Stuart Adam, Thomas Verzijl, Ashton Richardson, Sophia Sauvage, Cameron Magee, Glen Stripp and Evie Rushton with Oscar Woodward, Kirsten O'Brien, Alex Richardson, Pierre Hornsblow, Stephen Herlihy, Annalise Verzijl, Rihan O'Brien, Jennifer Adam and Kathleen Adam representing the Wheelers youths.
Making the podium for a second successive week were Isabel Moore and Sam Blackwell in 2nd and 3rd respectively.
A special commendation goes to Stephen who was not phased by his chain flying off coming out of T1; he calmly replaced it and got on with the job in hand to finish strongly.
Click here for full results – Culford TS, TS1, TS2
Click here for full results – TS3 & Youths
A final congratulations to Helen Samuel who has just had confirmation of her GB qualification for this year's World Championships in Australia.