In the midst of the summer season of racing, club rides and big events, it's easy to forget the amazing work done by the club's Go-Ride team. Like everything that happens in the club, it is down to volunteers to make our activities happen and arguably inspiring the next generation of Wheelers is the most important.

In the process of building the new club website, I dropped into the club HQ tonight to get some photos of Go-Ride. What I didn't expect was 45 (yes forty-five!) kids of all ages being coached at all levels. From Neville and Hannah guiding non-riders into their first wobbly metres, to Chris teaching the older kids to track stand, the whole field was a buzz of kids on bikes. I'm sure there are many club members who have no idea that this goes on every Tuesday evening in the summer in term time (and of course continues on rollers and turbos inside through the winter). It's something the club can be really proud of.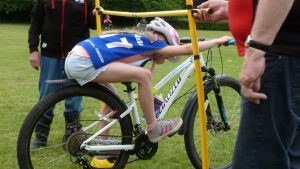 For those parents interested in getting their kids into cycling just head down to Club HQ on any term time Tuesday by 6:15 to register before the session begins at 6:30
Also, next time you see one of the Go-Ride team, give them a big pat on the back for giving up their time and putting a smile on those kids faces. That's Helen Ballam, Hannah Brookman, Neville Pettitt, David Ballam, Don and Brenda Picking, Giles Farthing, Lucy Waller, Chris Hinnet, plus ex Go-Ride kids turned coaches Robin Lines, Rhys Holland-Jones and Ed Ballam. There's probably several others I'm sure I missed (it's pretty busy down there let me tell you).