Matt Shingleton raced IronMan Bolton last weekend (16th July) and has written this excellent account that gets you right into the heart of what it feels like to compete in an IronMan (that's a 2.4 mile swim, a 112 mile bike leg and a 26.2 mile marathon run). To make it even harder on himself, Matt chose to run in Bolton. Go figure.
---
Race report for those that may have interest or thoughts of racing it themselves. I hope that I can inspire a few of you to race long in the coming years.
Preparation
Saturday was the registration, bike racking and race briefing day. First registration, get the IronMan rucksack, number, wander around the stalls to see if there is anything of interest, check out T2, drop off my T2 kit bag to include running shoes and socks, then off to Pennington Flash to drop off the bike.
The usual huge transition area, 2300 racing. All the usual nerves, have I forgotten something? Are my tyres OK? Will my handlebars, saddle, pedals, cranks,…. etc. fall off. Irrational I know. It was raining, so a bag over the arm rests, bit of air in the tyres (cold Bolton, there won't be any over heated popping tyres today!) then say goodbye to the bike until tomorrow. I had a great rack position, on the end, so nice and easy to find and only one neighbour. Helmet into the bag and racked. At IM races you get bags for each transition so there is nothing around the bikes on the rack. The bike one has anything you need for that leg, in my case just the helmet, and into it after the swim goes your wetsuit and goggles. Checked out the swim course. An Aussie exit and a rolling swim start, so we line up in approximate swim time order and our time starts as we go over the timing mat on the pontoon. Out around for one lap, up another pontoon onto land and back into the water. Looked pretty simple. Checked the T1 exit, then off to Bolton to see what delights are there.
Bolton has few delights.
Race briefing, although not REALLY necessary is actually worth attending. A great way to get into the mood. Some great videos on a huge screen and the race organiser from IronMan gets everyone buzzing. Then off for food and bed.
Before an IronMan no one gets much sleep. For a start wake up was set with lots of alarm clocks, hotel wakeup call etc. for 03:15 – that is still Saturday night FFS. And of course all the nerves kick in. Have I got everything where it should be, have I forgotten something, what if I get blocked in by another car at the hotel car park, all sorts. I did sleep but not great. Everything all ready to go first thing, lined up to make sure I get everything. But, I have prepared as well as someone with a job can manage, well-structured training, not got a single cough or cold all year(!), no injuries, no muscle tightness, a bike that is frankly just awesome, including my new Borg wheels which I love, I've ridden the bike course so I know the hills, the lot. So, "just do it".
Sunday morning.
Yawn.
Cereal breakfast, nothing wholemeal, that makes you poo on the run! Cup of tea to wake me up and help move the bowels, then 15 minute drive to the Macron Stadium, where T2 is to get onto a bus to the swim start (there's no parking at the lake for several thousand people) and slowly consume my porridge. Raining, as forecasted, but looking like it may clear up, as forecasted.
To the bike. Check tyres, bait box on, aero water bottle on tri bars and filled up, shoes on pedals, talc in shoes, intentionally no elastic bands this morning so the shoes hung upside down (it's still raining). Check bike again. Wait at portaloo. Check bike. Portaloo again. Check bike…. Wet suit on, casual clothes bag dropped off then queue for race start.
Great atmosphere, loads of supporters, music, cheering and clapping. Quick caffeine gel and swig of water, the pros start, a few minutes later we all start snaking our way about 4 or 5 abreast down to the lake. It takes 30 minutes apparently to get everyone in to the lake. Rain stopped though, bonus.
Swim
No swim warm up, so I eased into the swimming but the rolling swim start meant I was with swimmers of my approximate speed. No broken nose, fist in the ear or grabbed foot to deal with. Overtaking folk as I go (a lot of over confident swim times predicted), first lap was fine, out of the water, a little run and then repeat. Really enjoying the swim actually. A little choppy at times but the water at a reasonable 18degrees is pleasant. Approaching the pontoon to get out again, thinking of what I need to do next.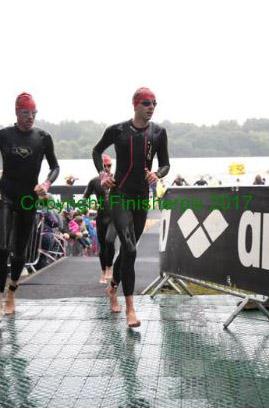 Transition 1
A helper drags my dizzy body up and then a run of 300m or so, allowing time to get top of wetsuit off, squeegee the hair then into the T1 tent. Grabbed my bag off the peg, helmet on, wet suit off, wet suit into bag, bag thrown at helpers, then find the bike. Swim in 65mins, bit slow but OK. My GPS said that I did 4000m, not 3800m!
Grab the bike then run to mount line. The track to get to the course has a handful of speed bumps so a handful of bottles from the 150 folk in front of me have already dropped out.
Bike
The rain has started now, but the road is closed, no significant corners for the first 20km or so, just a few roundabouts and I'm trundling past those that can swim but not great bikers.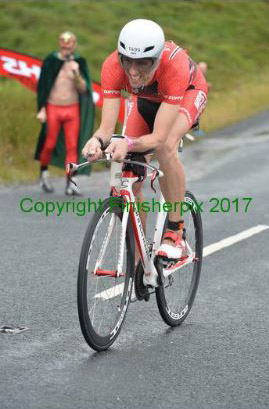 At about 25km the first hill appears. A good handful of supporters to shout me up the road, a drop down to Rivington Reservoir then a long hill, bottom gear (that's 42×23 for me today) to wind my way up to Sheep House Lane. At the top there's some guys dressed up in superhero outfits which is fun, then a twisty decent to drop into the village of Belmont. One of the corners had straw bales stacked up to collect those that over cooked it! No trauma for me here, but I got overtaken by at least one. It's a long day, I'm not risking it for a few seconds here.
Then the long hill, not so steep, but goes on for ages, followed by a long downhill. A bit breezy and raining, so not mega fast for me. 2nd aid station at about 50km to get more iso which splatters all over the handlebars. The mid section of the bike course has lots and lots of potholes, rough roads, corners and annoying hills that stop you getting into a good TT rhythm, then at bout 80km there's a short but steep ascent before a flattish 15km to start the 2nd lap.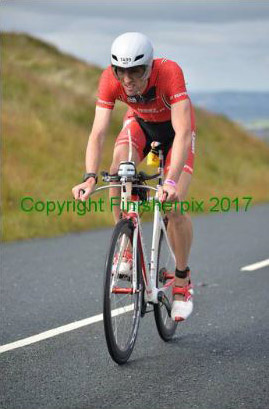 2nd ascent up Sheep House and my legs are saying a lower gear would have been nicer. The sun has come out, loads of crowds out on the course for the 2nd lap and the roads are drying so go, go, go… On course for a 5:30 bike, pretty much as I expected. This is a tough course, about 1500ft of ascent and the top bike leg of the day was 4:50. Compare that to IM Frankfurt the previous week where the top bike of 112mi was 4:04. So it really is not a fast course.
Trying to get some food in me not going too well. Sicky feeling, blood in my legs not helping digesting contents of stomach, but I persist and hydration good, I'm peeing plenty. The last hour I drop off the pace a bit to prepare my head and legs for the run. About 5km left I can see the Macron Stadium where I'll start my run. Bike indeed 5:30.
Transition 2
Over the dismount line to find that the tarmac was particularly hard on my naked feet to rack the bike, more running, again more sore feet, to the tent, grab my bag, helmet off, socks on, shoes on, rack the bag and off I go.
Run
There is a little up hill through a housing estate that slowed me down then onto the 9km route to get to the main run loop. Up a main road with few supporters my legs are feeling empty, then onto a tow path along a canal, there's almost no one here and I'm feeling worse. Drained of energy and hot, I end up walking a couple hills thinking it's all gone a bit Pete Tong.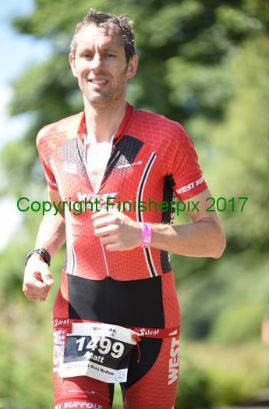 Once onto the main loop that we do three and a half times there's quite a lot of supporters out on the course. A few places with bands playing and all sorts. Aid station 3 I get a gel and water and then there is a gradual downhill to the town centre where the turnaround and finish area is. This helps me and I gradually increase the pace but looking at my km splits on the GPS it's not great. Getting hot too. I didn't know that Bolton ever got sun.
There's a downhill then a sharp up to get to town centre where there's barriers and loads of people cheering the runners. Nice encouragement. Turnaround, then repeat three times.
The uphill out of the town is harder than it should be for my empty legs, more walking.
Getting the food and water in though, so just plod on. My pace well off what I need to do. I was hoping for a 10:15 race time, which meant I needed to run with an average of 5mins per km. My good splits were sub 5, ish, but my bad ones where I either had a hill or a walk through the aid stations, were worse than 6:00 pace…  Still, go too hard and cramp up into a mess and not finish, try to run through aid stations and just cover myself with energy drink and not actually swallow it, or slow down for a bit.
As the day went on the course got busier and busier with runners, and supporters. Half way round each lap you need to grab a coloured band to indicate the lap number and make sure that you complete all three complete laps. As I start my last lap I see folk on the first with no bands yet, so I feel pleased for myself but sorry for those folk with pretty much 20 miles of running to do still.
No need for any more gels or juice, just water for my dry mouth and the last lap felt great. As quick as my tired legs would take me into the town and the great sensation of going through the crowds and then splitting off the course to go up the IronMan carpet for a 10:35 finish. Not the time I wanted, but it is what it is.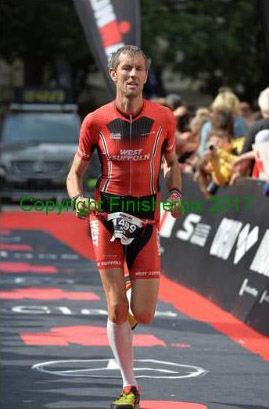 Later, I looked at the results, 87th overall and 16th in age group. No Kona from this.
Never Say Never Again
This was intended to be my last triathlon so I felt a little sad that I was moving away from what has been a great sport for me. A lot of great people, places and experiences.
Then, I thought I may come back to this: in a couple years when I'm at the youngest point of my agegroup, which would be 45-49.
At home, I considered things further and thought I'm super fit at the moment and so I then entered IronMan Tenby, Wales for September this year. An ever tougher course, sea swim, hillier bike, hillier run, almost certainly colder, almost certainly rainy, but it's only 8 weeks away, so this week off, 6 weeks of training then taper for a week. 6 weeks of hard work  – that's nowt.
Time to work on my bike nutrition.
If you are thinking of racing an IronMan, Bolton is not an easy course. Only the top 31, a good proportion of those professionals, went under 10 hours. But not an unpleasant experience, and much cheaper than an overseas race. I would recommend this. For "full distance", IronMan branded events are great. So well organised, great spectators and helpers. Closed roads keep things safe and you come away, no matter what result with an amazing feeling of being awesome and having achieved something really special. Which it is really. It is a bloody long way, and proper hard work.
Triathlon started back in the 1970s with IronMan and for me and many others this is the real sport. Personally I'm no fan of draft legal races and the shorter distances are just a warm up for getting onto the full distance later in life.
Give it a go!
If you need advice please ask. Bolton was my 4th IronMan, I've a fair amount of experience and knowledge of this fantastic sport.
Matt Shingleton, July 2017
All images © 2017 Finisherpix