Lesley and Stephen Linden were among several Wheelers representing Great Britain at the  European Sprint Duathlon Championship in Ibiza on the 2oth October. Here's Lesley's first hand account  of the race. More reports on the event to follow as they come in!
Having decided to treat this trip as 'a holiday with a race in the middle' we both felt much more relaxed than in previous years. Despite this, from our balcony we could see the storm clouds gathering and it seemed as if the Spanish jinx for rain on race day was once again going to put a damper on things. However, after a spectacular thunder storm mid-week the forecast altered to 'possible showers' and the scene was set.
We were able to recce the run and bike routes before the main GB contingent arrived in the lovely town of Santa Eulária and we watched the building of the beach-based transition area and the Finish arch in the nearby town square, the excitement began to build! Then disaster for the organising committee – a storm surge on the penultimate night before the Sprint event destroyed the transition area and they had to work through the night to relocate to the town square.
Race day: Up at 5am for a banana and tea, final check – stickers in all the right places, tyres pumped etc etc., Off to find the new transition in the dark and learn the new routes in and out. Done. Dawn breaks, athletes, now cloistered in the transition area nervously banter with each other, crowds of supporters (including many of the Standard athletes) begin to mass, the theme from 'Pirates of the Caribbean' plays over the loudspeaker and a light rain starts to fall. We wish each other 'good luck' and join our start groups.
I watch Stephen go off, my heart is thumping, the loudspeaker echoes my heart beat and I realise it's the 30 second warning; we're off – this is it!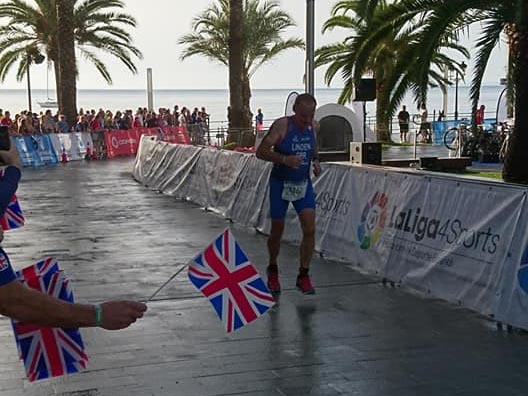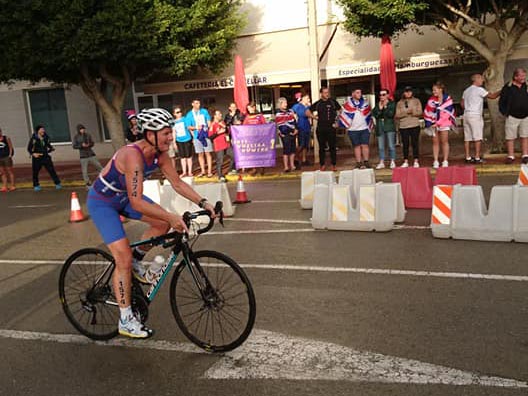 We both finish satisfied that we have done our best on the day and although we're both a little way off a podium place, we continue to improve in a sport we only started in retirement and we're already planning our training for next year! We have really enjoyed the GB team atmosphere this year, helped by a wonderful event location, we've renewed friendships and made many new ones. Thank you Ibiza, it's been great!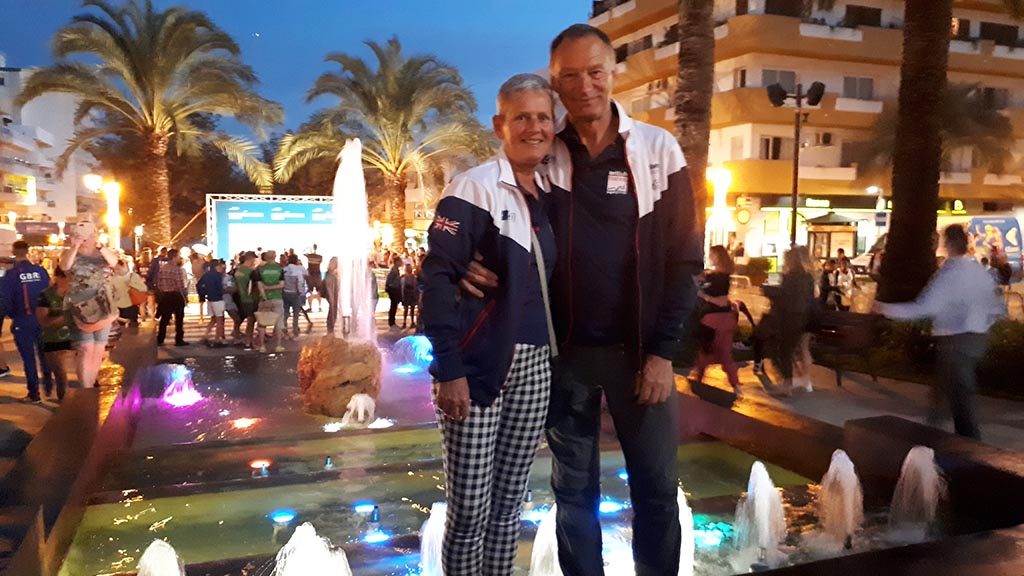 (Ed – What Lesley doesn't mention is that she was a fantastic 6th in her AG in 1.25. 40, and Stephen a solid 21st in his AG in 1.18.31 – well done both!)