---
In 2016 the club adopted the "wolf and chainring" logo and subsequently people often ask "why the wolf?"
The wolf has featured on the crest of Bury St Edmunds since 1606 and is a reference to the legend of St Edmund's martyrdom in 869 (see box below).
---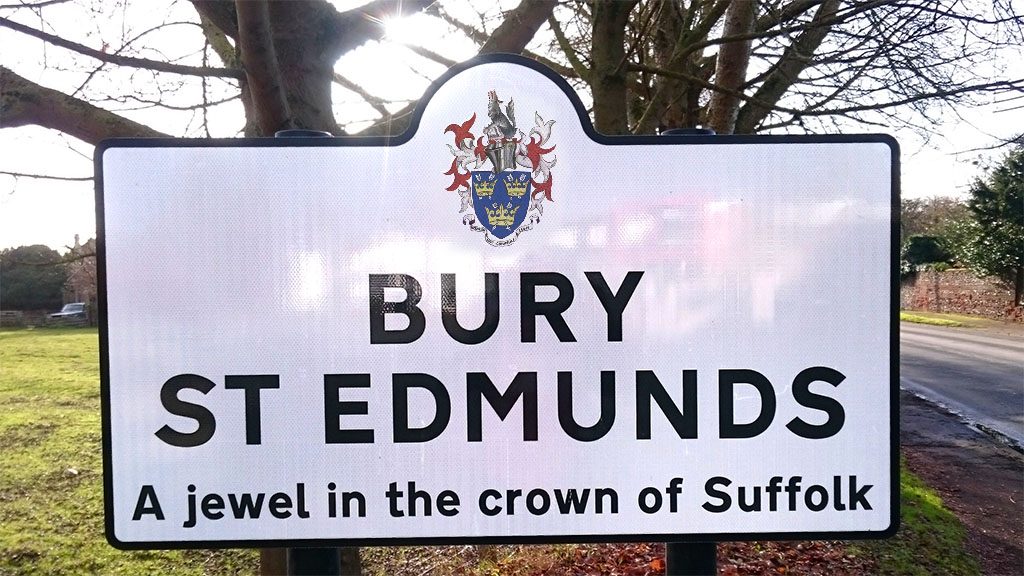 ---
In 2013, a sculpture of the wolf was placed on the Southgate Green roundabout in Bury St Edmunds (a project driven by Melanie Lesser, wife of our very own Wheeler, Guy Lesser). The association of the wolf with Bury was further enhanced by the "Wolf Trail" of 2015, which saw 26 wolf sculptures placed throughout the town.
The Southgate sculpture modestly replaced the severed head of the king with a crown; from there it was a simple leap from crown to chainring and the inspiration for the new club logo.
The Legend of St Edmund and the Wolf
Edmund, King of East Anglia, fought against the Danish invasion, but on 20 November 869 he was captured. When he refused to give up his Christian faith the Danes tied him to a tree, shot him with arrows until he 'bristled like a hedgehog' and then decapitated him. The King's men came to find his body after the battle, but they could not find his head. Hearing a cry of 'Here, here, here' from a nearby wood, they discovered a wolf protecting the head of the King. The wolf allowed the men to take the head and, when placed with the body, a miracle occurred and the head fused back on.
Edmund's final resting place was in the Abbey of Bury St Edmunds where his shrine soon became one of the most famous and wealthy pilgrimage locations in England.
---