Angela Joiner-Handy took on the best of Europe and the worst of the weather at the European Duathlon Championships in Soria Spain last week and came away with a superb result. Here's her excellent report…
"Well, having qualified months ago, I thought 'I am on this, this year I am going to train hard'. Life never seems to work out the way you plan does it? Being a Mum, running your own business and a home whilst still trying to study is tough. I have realised I don't want to miss out on experiences with my family over training time. Having said that, I thought I had done enough to medal.
The weather in Soria the week before, glorious, the day after, glorious! Race day, well, as we stood on the start line and saw the metal barriers being blown everywhere, I have to admit I was nervous about being out on the bike, never mind on my bars!! Gun goes, I immediately give chase to two Spanish girls, 'Don't go too hard' I tell myself. There is a brutally windy and hilly course awaiting so I was mindful not to leave it all on the first run. 'This is where I make my gains' was the counter voice in my head. A twisty course with lots of dead turns. Took a slight wrong turn – doh!! Now I'm in 4th, never mind, catch the brit back up and go ahead again. It's actually quite warm but the wind is harsh, still my mind is on the task at hand, putting daylight between my main protagonists and me on the run, essentially making hay whilst the sun shines!! Come into transition 3rd but have a quicker transition than the other British lady and come out second in my age group.
Oh my life, it is so windy. Long run on the blue carpet, uphill, into wind, to mount my bike. We weave through the streets to get onto the main highway and then the full force of the wind can be felt. I am actually scared to get on my tri bars!! I know I'm not aero at all but I want to make it home in one piece! Go hard I think, hard but controlled. There are little nibby hills that just sap your strength. Then a long stretch to the turnaround point, which would be brilliant to get into a good speed on, but the wind is horrendous and gusty, frankly dangerously unpredictable. One lap completed and no ladies have overtaken me – phew! Can I hang on? I can feel lack of the time on the bike and I am having to dig into reserves already battling this wind. Kate Morris (50-54) overtakes me and tells me to hang on to her – I try but she is so strong. Damn – I should have done more on the bike! At one and half laps in – Luella comes past me and shouts something positive. She is in my age group but still found the heart to cheer me on. 'Keep her in your sights' I think to myself. Cramp strikes in the right calf! What is going on? Keep calm, take a gel, ease off just a bit, you'll be fine. The wind is unrelenting and now I can see hail – marvellous! My legs are seriously fatigued now and I can feel cramp in my quads – oh dear, this race is not going brilliantly! Just hang on, I am telling myself. Keep the tempo strong, as strong as you can. Two and a half laps in another British lady overtakes me but she is not pulling away too much. At the far turnaround point another Brit overtakes me – still undeterred I try to stay positive, don't let the gap get too big. I feel absolutely wasted but the distance athlete in me refuses to give up.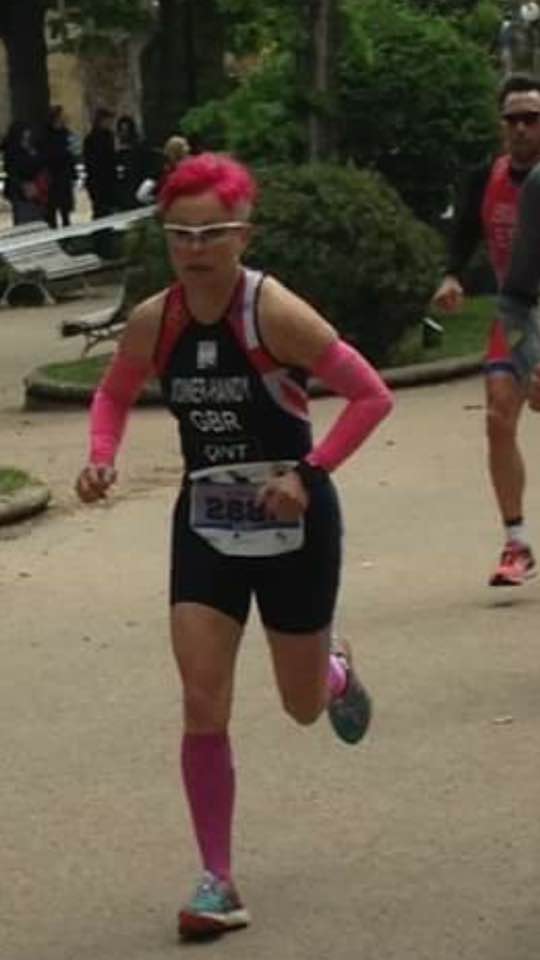 Into transition I come, another long run down into the racking area. I actually feel out of it and I cannot think straight. The flags that were my marker are no longer there, they've been blown away. Where is my spot?? Arrrggghh! Headless chicken mode commences, until an English guy shouts "It's there you silly cow!". I was actually exactly what he said I was! Trainers on, number round and let's see what these legs have. Still I think 'Yes, I can hunt these girls down, it's what I do'. My legs feel terrible but I try to stride out and just keep a good tempo, I am not giving in to this all consuming cramp – no way! I nearly go the wrong way again – I hate course with lots of windy switch backs with cones everywhere! I push on because I can see that I am getting closer to one of the British girls, but think I am going to run out of time. My right hamstring feels as if it's going to cramp, I have never had issues like this before but then I have never competed in conditions like this on limited bike time. I just ease off the pace a bit but feel as if I am running backwards. I cross the line and feel dreadful. Still ran a 22.20 though for the 5km. I can hardly walk properly now! Fellow Brits Margo Duncan, who is a doctor, and Kate Morris, who won her age group, thankfully took great care of me.
I came 5th overall. Could have been a disaster but the seasoned runner in me got me to the end!
For the last few years I have never really done enough training. I have been there before running internationally, and didn't want to miss out on time with my family over training. However, a hunger has been ignited in me now! Just a bit more time on the bike and I would have had sliver, maybe gold, who knows?
Onwards and upwards. Project European half ironman in underway. I have 5 weeks until June 10th – bring it on!!!"
Angela Joiner-Handy – 30th April 2017