Grass track cycle racing returned to Bury St. Edmunds on Sunday 5th June, with West Suffolk Wheelers & Triathlon Club's annual festival at Fornham All Saints. Held on a 200m grass course, riders race on single speed fixed gear bikes.
Attracting a field of local and national racers, the event incorporated both the National Endurance League (8km) and 800m Grass Track Championships.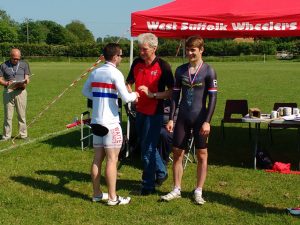 The national 800m event was won for the 3rd consecutive year by Southern Counties rider Andrew Leveton of VC St Raphael, with Chelmsford based Mitch Powell (who was also victorious in Devil Take the Hindmost, in which the last rider on each lap is eliminated) of Team Terminator 2nd, narrowly ahead of former champion Rowan Elliot also of VC St. Raphael.
The 8km event was won in some style buy Norfolk rider Dougal Toms of Iceni Velo, (who also won the Unknown Distance event in which riders pace themselves until the timekeeper signals 3 laps to go at which the business end of the race starts in earnest) with Tom Roper (Beacon Wheelers) and Chesterfield's Martin Smith 2nd and 3rd.
The women's Omnium (multi race event) was won by Medway rider Sally Smith.
Other Omnium winners were Fred Gill (Colchester Rovers , Youth A); Thomas White (Colchester, Youth B); Nathan Hardy (CC Ashwell, Youth C); Bradley Taylor (Colchester Youth D); Erica Dodsworth (Maldon CC, Youth E).