Fritton
In a direct contrast to last year's wet and miserable weather, perfect start conditions greeted many of our triathletes at the Fritton Triathlon Festival.
The first triathlon event was the sprint, 750m swim, 20km bike finishing with a 5km run.  A much larger field than previous years saw 200 competitors split into 2 waves of 100, 7 minutes apart.  As the weather hotted up, so did the competition and some impressive times and finishing straight battles were enjoyed by the large support.
The strong Wheelers contingent saw many great performances and trophies. Defending his 2016 age group win, Darren Sharman smashed his previous best by 4mins and again was the first in his 40-44 category.  Pip Moore was overall 2nd. Niki Bennett was also on the podium with a fantastic 3rd female home and, the seemingly unstoppable Laura Brown, took another win.
The 400m swim, 14km bike and 2.5km run super sprint was next up in the afternoon and it was a case of deja vu as many great performances and placings were repeated from the morning.  Again, the Wheelers punched well above their weight, in another strong field.  Darren was our first across the line to extend his trophy cabinet with another age group win and overall 5th.  Scott Williams followed 2 places later to take the 30-34 age group win and Laura made it 3 Wheelers in the top ten and another top spot for the ladies.  3 seconds denied Niki Bennett another podium place but she was able to take the age group win as did Jill Wilshaw.
The final event of the Fritton weekend was the standard Olympic distance, 1500m swim, 40km bike finishing with a 10km run. Another large field, longer distances and temperatures soaring, made this a tough race.  First Wheeler home was Scott Williams with an impressive 20th.  Niki Bennett again made it onto the podium as 3rd female home and Laura Brown managed the triple to take her third win of the weekend in a nail biting sprint to the line.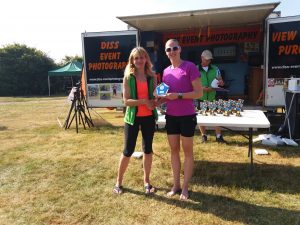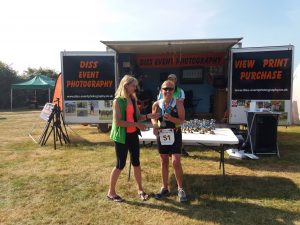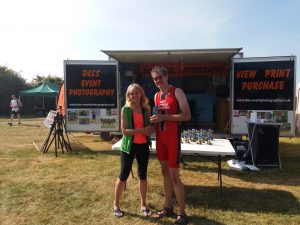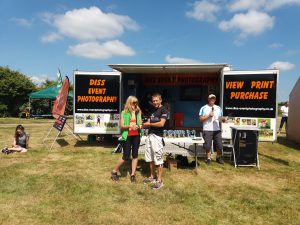 click here for full results Fritton
Norwich
Sam Blackwell and Oscar Woodward were also in action over the weekend at the Norwich Kids Triathlon. Sam, competing in the Tristar 1, gained an impressive 5th in category position whilst Oscar managed a fantastic 3rd place podium.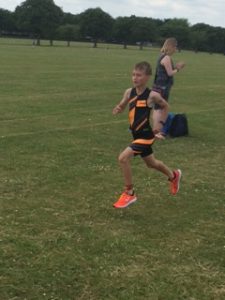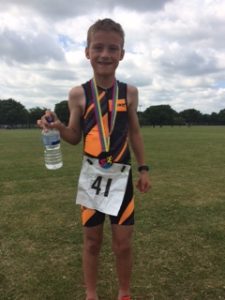 click here for full results Norwich