Club Triathlon Championship Report
Saturday & Sunday 18th & 19th of June 2016 – make a note of this date in years to come. It saw our first club triathlon championships held at Fritton Lake, Norfolk, and what a weekend it was.
Over the course of the weekend club members took part in four different races.
Saturday 8am – Sprint Triathlon
Saturday 3pm – Super Sprint Triathlon
Sunday 8am – Standard/Olympic Triathlon
Sunday 8am – Team relays over the standard distance
Sprint Triathlon
Saturday morning dawned wet and drizzly but with a team of 11 Wheelers all were in good spirit and ready to race.
The sprint course consisted of a 750 meters open water swim, 20km bike and 5km run. With water temperatures hitting 19 degrees it was warmer in the lake than out enabling our guys and gals to all put in good swims, special mention goes to Claire Blatchford for who this was her first open water race swim.
With all Wheelers out the water it's a 200 meter run up to transition to get your heart pumping and wet suits off, then find your bike and kit and you're off on the bike leg which is mainly on quieter but at this point wet country roads. 2 laps of the bike course follow and then back into transition. At this point our own Matt Shingleton and Pip Moore were in the top five and getting big cheer from the rest of the team, as did all WSW&TC competitors. The 5km run is around the country park and very good for spectators, so we were able to watch Hannah McInroy Naylor reel in and go past Annie Drugan on the 2nd lap of a 2 lap run course in an exciting run leg. Other very strong performances and PBs saw the rest of team record some good results.
| | | |
| --- | --- | --- |
| Matt Shingleton | 1:06:07 | 2nd overall |
| Pip Moore | 1:07:23 | 1st in age group |
| Chris Dive | 1:13:23 | 1st in age group |
| Hannah McInroy Naylor | 1:15:38 | 2nd lady |
| Annie Drugan | 1:16:55 | 3rd lady |
| Laura Brown | 1:18:52 | 1st in age group |
| Malcolm McFarlane | 1:18:52 | |
| Paul Sawyer | 1:28:57 | |
| Simon Kitching | 1:30:57 | |
| Claire Blatchford | 1:32:07 | |
| Julie Reeves | 1:36:11 | |
With 6 trophies in the bag after the first event and everyone in jubilant mood, the tone had been set for the rest of the weekend.
At this point I should also mention there is another competition across all three events running called the triple challenge for those entering, you guessed it, all three events (excluding the relay). Team WSW&TC also had Matt, Malcolm and Hannah entered into this, so we were off to a flyer.
Super Sprint Triathlon
Round 2 at 3pm was the super sprint race. This consists of a 400 meter swim – 14km bike – 2.5km but don't let that fool you, this really is pin your ears back and go time. For this race our fab three of Hannah, Malcolm and Matt were joined by Julie Reeves after her sprint race exploits, Jill Wilshaw and yours truly Phil Clarke looking for a peace of the action.
After a good swim Hannah, Phil, Malcolm and Matt emerged from the lake with only seconds between them. Race on, with Julie and Jill both doing well not far behind.
Matt powered past three of us on the run to transition and out onto the bike, followed by the rest of team, Matt begun to claw back places on the bike leg whilst Malcolm, Hannah and I swapped places around the bike course, all staying within sight of each other. By the time we were back into transition Malcolm had put out a lea,d with me and then Hannah following.
Onto the run and Matt had got himself into a strong position in 3rd, with Julie and Jill both working themselves into the top half of the table. But the race was not over yet, Hannah had caught and passed me 1/3rd of the way around the 1 lap run course which helped me dig in and we both closed down on Malcolm. All three of us finishing within a minute of each other.
| | | |
| --- | --- | --- |
| Matt Shingleton | 42:20 | 3rd overall |
| Hannah McInroy Naylor | 47:10 | 1st Lady |
| Phil Clarke | 47:22 | |
| Malcolm McFarlane | 48:19 | |
| Julies Reeves | 1:00:38 | |
| Jill Wilshaw | 1:02:11 | 1st in age group |
Three more trophies to add to the morning haul, made for a very enjoyable day. But more than that, we had great team spirit – with help, advice and support for each other.
Standard/Olympic Triathlon
Sunday morning dawned with this strange yellow orb in the sky which I'm told is the sun (at last). This time our biggest team of weekend assembled with 8 Triathletes in the standard distance race 1500 meter swim – 39km bike – 10km run, and a further 6 members across two relay teams doing one of the disciplines each. Welcome Dan Baxter to our merry gang, new member and cyclist getting a piece of the action in the relay.
The standard race was also this seasons Eastern Region championship race, so a big and talented field assembled from across the region. As the field was much bigger than the previous two, races triathletes went off in two waves 7 mins apart.
After the swim and bike section our standard distance racers were all comfortably in the top half of the field. Our relay swimmers in Pip Moore and Marc Verjil both put in big performances arriving back on land in the top five of their race. For team Sharman Pip handed over to Darren Sharman, who then put in the fastest bike leg of anyone on the day. Not to be left far behind, Marc handed over to Dan Baxter who recorded the 2nd fastest bike time in the relay, leaving team Betts well placed in the top group going into the run; Thomas Betts was point man on the run leg. Tom put in a fast 10k run to lead his team home to a great 4th place. Meanwhile at the front of the relay race, it was turning into a thriller with Chris Brownhill taking the run leg for team Sharman in 1st place with a 5:83 lead. But… behind and gaining all the time were a team from Bungay Blackdog running club. By the time Chris entered the last mile the gap was too close for comfort. With a team of Wheelers howling and hollering our man home, Chris's final burst took him away for victory by 4 seconds.
In the standard race more fine results were achieved by all with the whole team finishing well placed.
Matt Shingleton
2:07:48
1st in age group

1st Vet Eastern Region champion

Aiden Dunn
2:24:26
James Heath
2:28:39
1st in age group
Ray Reeves
2:28:41
Nicky Bennett
2:29:32
3rd Lady
Phil Clarke
2:30:58
Hannah McInroy Naylor
2:32:32
1st in age group
Malcolm McFarlane
2:37:38
With a taste for glory now,  we were not finished yet. Wheelers were on the trophy hunt in the triple challenge with Matt Shingleton 2nd across all three races and Hannah going one better as 1st Lady. Special mention also goes to Malcolm McFarlane – it's no mean feat doing three races in two days.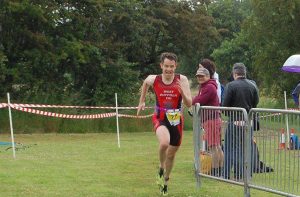 So concluding it was not only a magnificent trophy collection over the weekend but was great to see so many achieve their own goals. This was the weekend WSW&Tri came of age and became a team. Put the date in next year's calendar; you are not going to want to miss out, join our pack.
This event also represented our club triathlon championships. At this time results are still being collated, so still more news to follow in the coming days.