Thirteen Wheelers tackled the Coast to Coast in a Day Sportive on June 24th. Here's Peter Golding's report on one really tough day on the bike with something of a sting in the tail…
"Do you want to do the C2C mate?" said Matt Denny. "Sounds interesting" said I.
Little did I know when I expressed an interest, just what I was letting myself in for! Firstly I thought it was the northerly version Whitehaven to South Shields, how hard can that be? When I eventually bothered to look on the website and discover that it was actually from Seascale, near the Nuclear Power station at Sellafield, through and over the Lake District, over the Pennines and into Wensleydale, then onto the top between it and Swaledale, cross the Vale of York and then over the North Yorks Moors eventually arriving at Whitby; easy, only a 150 miles and a claimed 4,500 meters (13,500ft).
Then I discovered that Stu Grand was organising a 'Rock Star' coach, what a brilliant idea, sleep on the way to the start, sleep on the way back, result, "I'm in" I said.
So I did some more detailed research and discovered that the route went over 2 of the most difficult climbs in the Lake District, Hardknott and Wrynose Passes, better get my block changed for a 32 at least!
And so it was that I joined 12 fellow Wheelers at Denny Brothers car park at 6.30pm on the night of the 23rd July to wait for said 'Rock Star' bus. The bus duly arrived, bikes were loaded into the trailer, bunk beds were claimed and of we went; what could go wrong! After the initial chatter, we retired to our bunks, an enforced stop at the Stafford services whilst the driver took his obligatory 45 minute break gave us an opportunity for fresh air and a leg stretch. We had anticipated being at Seascale for about 2.30am Saturday, we awoke (if we'd been asleep) to discover the A66 had been closed west bound from Penrith, meaning the coach had to retrace the route down the M6 and drive in through the laborious southern route. After some 'Borg' route choice errors and a stop for motion sickness, we finally got there for 4.30, unloaded the bikes, sorted our stuff, apart from Malcolm who had placed his black helmet under his bed in the dark (school boy error) and couldn't find it, choice words ensued, from the 'Dog Collar' Paul Vickers, and after a search that the Lake District Mountain Rescue teams would have been proud of, the helmet was found and returned to its owner. And so registered we headed for the start at 5.30. Did I mention Malcolm's bike? No, thought not, it took 2 of us to lift it, without the food which was enough to feed us all, in the panniers.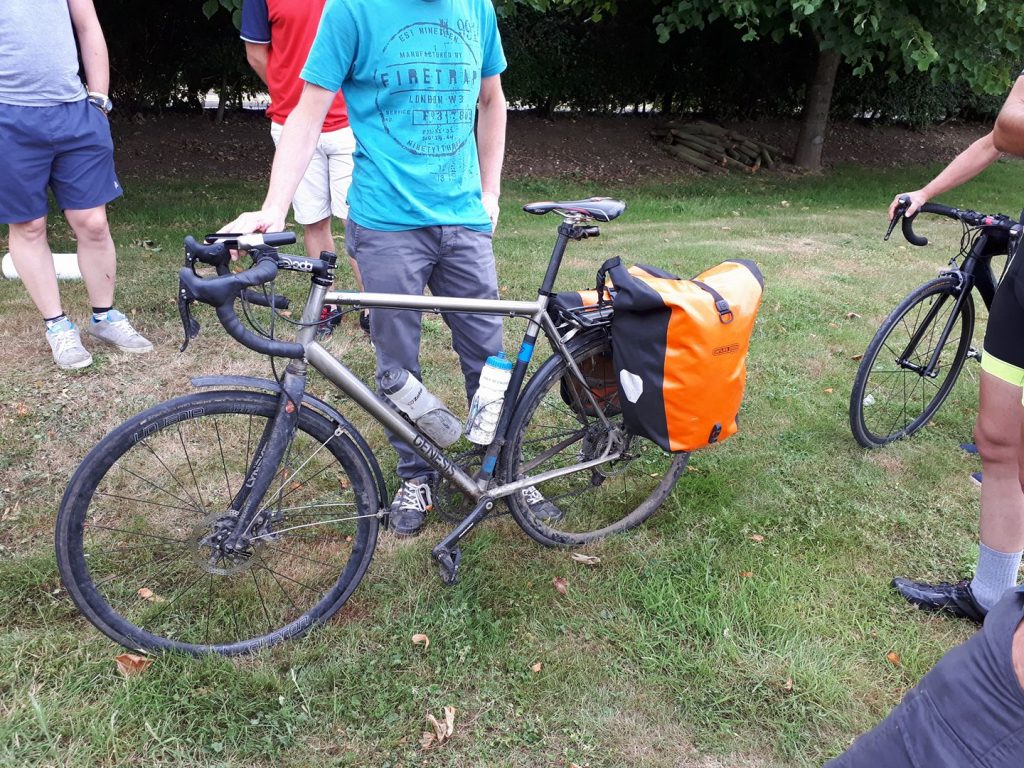 The gentle start, so the advertising blurb said, was actually (in my book) really fast, being a mostly solo rider, I felt we were going like the clappers, maybe I was. Chris Hinitt quickly decided to go at his own pace, as the rest of us charged towards Hardknott Pass. I don't know about the others but I was filled with trepidation, as I'd never climbed anything as steep before and didn't want to let myself down amongst good club cyclists. The cattle grid at the base of the climb caused problems for Jed Wallace, it was slippery and greasy, he lost momentum and only just saved himself and his bike from real disaster, legs bruised and deep scratches, but pride intact, he remounted, despite the Wheelers rallying round and advising against it, lots of other riders tried to ride across and found the same problem, riding through the gate was definitely the better option. And so the grind began, there were people walking right from the get go, not Wheelers I must add, and lots walked all the way to the summit, I quickly ran out of gears, but was determined to plod on. Paul Vickers, Jason Davies, Jeremy Waterson and Matt Eaglen, soon disappeared into the distance. David Howes and Malcolm on his heavy steed established their own rhythm, the rest of us were somewhere in-between, passing bike pusher after bike pusher filled me and the others with confidence and we were soon grateful for the summit and views over to Wrynose Pass, the next objective.  Oh by the way, what goes up must come down, how the professionals ride down at their speeds I can only imagine, I know I wasn't the only one with sore wrists and shoulders by the time we reached the valley bottom and began the ascent of Wrynose. It's nowhere near as steep as Hardknott, but the accumulated fatigue, made it just as hard, the descent was just as difficult. We picked up speed when the gradients eased and headed to Hawkshead and the ferry across Windermere, on the way we passed Beatrix Potter's house at Near Sawrey, which is not Far Sawrey! The speedsters were on the ferry and crossing the lake, before Stu Grand, Matt Denny, Giles Prime, Jed Wallace, Peter Stephenson-Wall and I arrived, but it did mean we had time for a coffee whilst we waited patiently for the next. Malcolm and David crossed together, and Chris arrived just after a cyclist had ploughed into a van on the fast descent and made a right mess of himself. It was another 10 miles to the feed station at Kendal which did not disappoint, well organised, very well stocked and lots of lovely people to lift flagging spirits if it were needed. The speedsters and the second group gathered here for a while, but we left before Malcolm, David and Chris arrived.
A pattern was set, off the quicker 4 would go, 6 would follow, and we'd wonder how the other 3 were getting on? There was a long, sometimes steep climb out of Kendall to cross the M6 over a bridge, which we had driven under in the coach twice the night before, good steady climbing followed before a very fast descent into Sedburgh, where if you're a rugby fan from the late 80's/90's, Will Carling went to school. Then it was up and over into Wensleydale ("More cheese Grommit") to Hardraw, (The famous Hardraw Force (Waterfall) was close by) near Hawes and the second feed station set up in a marquee in a field, the main body gathered again, swapped stories, wondered how Malcolm and his heavy steed, David and Chris were getting on? We were fed and watered, rested and re-energised before getting ready and going again, surprise, surprise there was another climb immediately after leaving the rest stop. We were routed past Bolton Castle (still in private ownership of the family of the original owner, Sir Richard Le Scrope), into and out of Askrigg (where a lot of the James Herriot 'All creatures great and small' was filmed), the next village of Carperby Green is where the fictional surgery actually was. I'd climbed the hill out of there before, I knew it was steep up to the 'Tank Roads' and the ranges beyond, the road did not disappoint and it was too steep for some; we flashed across the route of the 2012 Tour de France from the Col de Grinton Moor to Leyburn and charged down (mostly) to the third feed station at Tunstall, here I was only a few miles from rescue, as both of my brothers live close by. Stu was in communication with Chris, so we knew he was at the second station about a couple of hours behind us and that David and Malcolm were somewhere in between. Jeremy and Matt Eaglen decided to let Paul and Jason go at this point and set off with the main body, an interesting route to Catterick Racecourse then led us to the flat Vale of York, it was here I discovered just how quick West Suffolk Wheelers ride in a group, being very much a solo rider, I admit to hanging on all the way to Ingleby Greenhow, the fourth feed station. The usual pattern happened, find out how Jason and Paul were, Stu discovered Chris was at Tunstall, David and Malcom left as he got there, despite being separated by a few miles, we were together. Pork Pies and Egg Flans were provided here, oh and Peanut Butter and Jam sandwiches, joy.
I had been told that the worst climbs were still to come, surely nothing could be worse than Hardknott? So off shot Paul and Jason, off went the main body, minus me, I made the conscious decision to let them go, so I didn't feel I was hanging on, it made me feel good. The hills soon arrived, and I was able to make ground on most, I remember one hill in particular called 'Limber Hill' I certainly didn't limber up it, more like lumbered, what a steep short sharp shock it was, the remaining long climbs were wind assisted and a joy in comparison. We briefly gathered together, before the undulating roads to Whitby, and it was here that we noticed the force of the cross-wind, and oh boy were the descents fast. The last 7 miles into Whitby were downhill they said……. oh no they weren't, it was a long 2 miles to the 5 miles to go board. The finish at Whitby was a joy, lots of supporters all wanting to hand slap down the finish funnel, ice-creams on the green and wait to collect everyone. Oh may I just add that Strava said it wasn't 150 miles, so Paul, Jason, Jeremy and Matt Eaglen had to warm down to achieve the magic number, the rest I am pleased to say, decided to bask in the glory of the finish.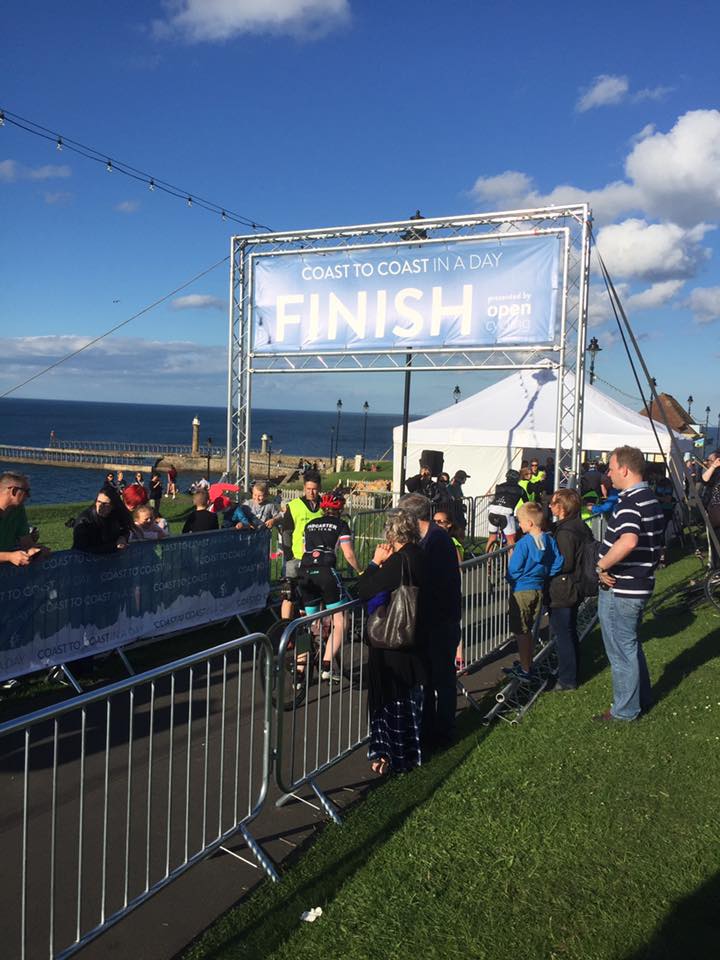 Now, do you remember the 'Rock Star' bus? We knew the driver had to have 9 obligatory hours rest once he was parked up at Seascale, so we estimated that would be from 6am, leaving there at 3pm and arriving at Whitby for 7pm at the latest, result. Meaning after loading and a 5 hour journey we could be in our own beds, for 1am Sunday, simples. Malcolm Borg however had other ideas, he had booked an Air B&B in Scarborough 30 miles away, as he planned to ride home via the Humber Bridge the following day, only another 200+ miles, 'Barking' we all thought. Back to the bus, the majority of us arrived at Whitby between 4 and 5, Stu made the call to the driver to get an estimated time of arrival, only to discover the bus was broken down in Seascale! "What's happening"? We all asked Stu, "A mechanic had been called out, but couldn't fix it, so Volvo were sending a specialist". Oh well lets go get Fish & Chips and wait for the rest of the group, the bus will be fixed by then! Whitby is a nice place to hang around in, if that's what you had planned, but not when you anticipated leaving soon. By the time David and Malcolm arrived, we knew it would be a long night, Paul decided he was not going to wait for the bus and set of for the train (minus his clean kit) at 7.15, Malcolm trundled off to Scarborough, the rest of us retired to a pub to await further news and  collect Chris.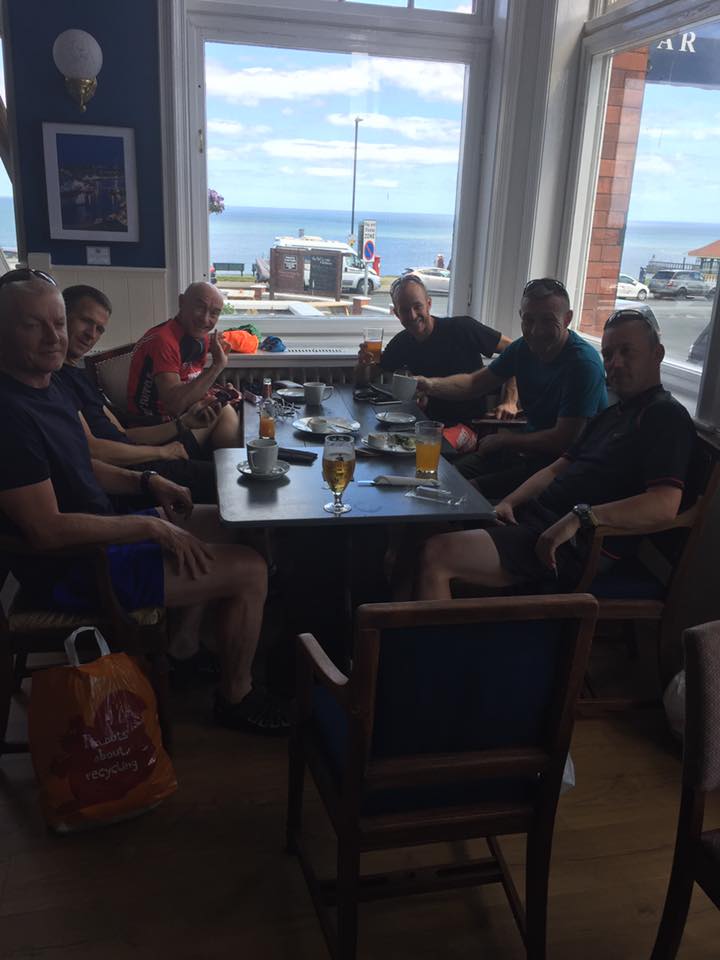 We were sold plenty of stories from the owner of the Bus Company, one of which was, the bus was on the way at about 10pm, "okay we'll wait here until it arrives". Thankfully we had chosen a most hospitable hostelry, the owners could not be more helpful, bikes stored inside, offer of a place for us to have a wash, a sleeping chair for Chris. Some of the group went off to town to buy fresh clothes, some didn't, more beer please. Eventually the truth came out, the bus had not, nor would move, without spare parts which would not arrive until Sunday morning. The owners of the hostelry found us someone who would rent us a holiday cottage for the night, it had beds for 6 but floor space sofas and chairs for the rest. Thanks to the generosity of Jason and Stu, money exchanged hands and we had a place to sleep. By the way Malcolm made it to the Air B&B, but Paul was stranded by BR in York!
We were all up early hoping for positive news from the coach company, finding a place for breakfast open early in Whitby is difficult, but eventually we were all fed. Matt Denny was rescued by wife Jo, who had put the kids in the van at 3 in the morning and drove to pick him up, Peter Stephenson Wall got in with him and the family along with 4 of the bikes, this was in an effort to reduce the cost of alternative transport if the bus didn't make it, chapeau Jo Denny. At 9.30am we got the news that the bus was on route, it should be with us for 2pm, thankfully we had the holiday cottage for refuge, as you can only walk around Whitby so many times in smelly cycling kit!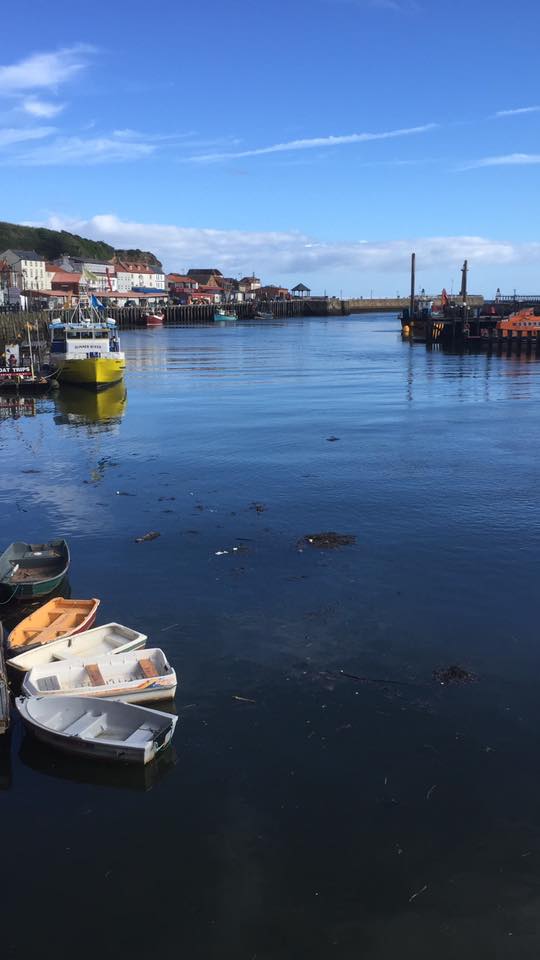 We eventually retired up to last night's hostelry, to say thank you and wait for the coach, it did eventually arrive, but stopped a mile and half from where we were "don't ask", so either by cycling or walking (some of our bikes had gone) we got there, reunited with our clean gear and food and were on our way home, fingers crossed before dark.
Malcolm made it home by his trusty heavy stead at 1am on Monday morning, Paul got home Sunday morning, Matt Denny and Peter for Sunday lunch, the rest of us were back at Denny Bros for 7.30pm. All's well that ends well. Apart from the problems with the coach, it was a brilliant trip, really well organised, a fantastic challenging route, awesome feed stations, with wonderful company. There were 2 cyclist airlifted to hospital with serious injuries, one from the descent to the Hawkshead ferry and another on a descent after Osmotherly, and there were quite a few terminal mechanicals,  which highlighted it is a serious undertaking. Thankfully no serious injuries befell the Wheelers, nor were there any serious mechanicals, almost everyone would do it again, in fact Matt Denny has already begun organising it, but not with Y'Not Rock Star buses!
Safe Peddling
Peter Golding June 2017