The Club has a very active Triathlon section, with plenty going on for Adults and Juniors:
---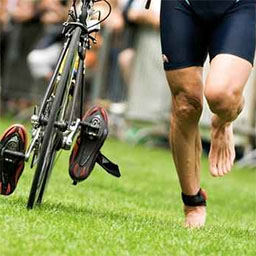 Triathlon is a multi-discipline sport consisting of swimming, cycling and running. (In that order, although in its infancy, the run was first and the swim last).
Race distances can vary but typically range from a Sprint, a Standard and all the way up to Ironman.
Sprint distances are typically 300-400m pool swim or 750m open water, 20-22km cycle and 5km run
Standard or 'Olympic' distance is approximately double the sprint distances
Ironman is much further. Typically a 2.4-mile (3.86 km) swim, a 112-mile (180.25 km) bicycle ride and a marathon 26.22-mile (42.20 km) run.
Click the link below to view Pip Moore's excellent e-book full of tips and techniques to help you get the most out of triathlon training and competing:
---

We have several training options:
Coached Pool swimming on Sunday, Tuesday and Thursday
Open Water swimming (May – September)
Junior and adult Coached track & swim sessions on Sunday afternoons
Brick session training (Thursday evenings October – March)
Running (Monday Evenings)
Click here for more details.
---

Go-Tri Aquathlon
Friday 2nd June 2017 18:45 – Moreton Hall Health Club, Bury St Edmunds, IP32 7BL
The Aquathlon is a swim followed by a run.
140 meter swim in the open air pool – 20 meters x 7 lengths
1.73 km run on a grass field (course here)
Registration open from 18:15 to 18:40
Race Start time 18:45
You must be 8 years old by the 31st December of this year. If you are aged between 8 & 18 parental consent is required
No barefoot running. Vests/t-shirts must be worn
Entry Fee £6.00. Entry online at https://westsuffolkwheelers.org/product-category/events/
Go-Tri are short races ideal for novices to have a go at multisport races, or for the more experienced athlete to gain some race practise in a safe, less pressured and friendly environment. Go-Tri is British Triathlon recognised and registered; the events will be marshalled by members of the West Suffolk Wheelers and Triathlon club; and friendly advice will be  available at all times from experienced Triathletes.
Go-Tri races are particularly suitable for juniors from 8 years old upwards, so the whole family can take part.
The Club Triathlon Championships will be held at Fritton Lake in Norfolk on the 17th and 18th June as part of the
Fritton Triathlon Festival Weekend
. The event is open to all members with club championships for each of three race distances (super sprint, sprint and Olympic), and split across age groups, 17-34, 35-47, 48-60 and 61+ – there's something for everyone.
Fritton Lake is easily reached from Bury on the day, but also offers on site camping, B&B and self-catered lodge accommodation and the 2016 edition proved to be a great weekend away for the Wheelers triathletes and families – see the 2016 report here.
Trophies are awarded for first man & woman in each age group, to be presented at the annual club awards event.
Entry is via the British Triathlon website: https://www.britishtriathlon.org/events/Fritton-Lake-Triathlon-Weekend_7555
The club runs two very successful Open events:
Plans for 2017 will be announced shortly.