Ray Reeves, competed in the 2016 ITU World Age Group Triathlon Championships in Cozumel Mexico on the 15th September. In extremely hot conditions Ray finished the sprint distance in 1:10:02. Here's Ray's report on his experiences at the race:
After a long flight from Heathrow, stopping in Miami and an overnight in Cancun, we arrived in the Caribbean island of Cozumel. With an average air temp of 30°c and 90% humidity, straight away you start to leak from every pour. The answer then would be to jump into the crystal clear sea with its myriad of fish and corals, unfortunately the sea is also 30°c which is the same as a swimming pool ! So the week was spent going from shady area to air-con rooms (it was hell!!)
Wednesday – Opening Ceremony Parade of Nations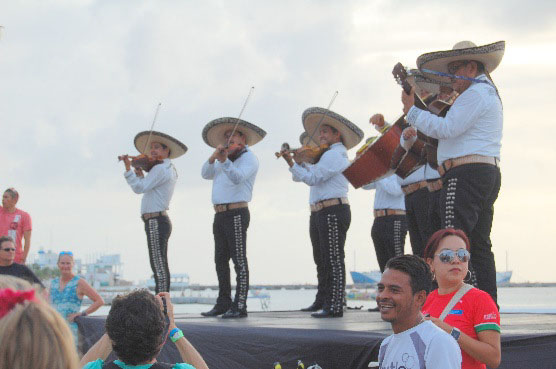 The streets along the main sea front road were closed and instead of cars and motorbikes, the street was filled with every age group athlete from dozens of countries and of course a Mariachi band!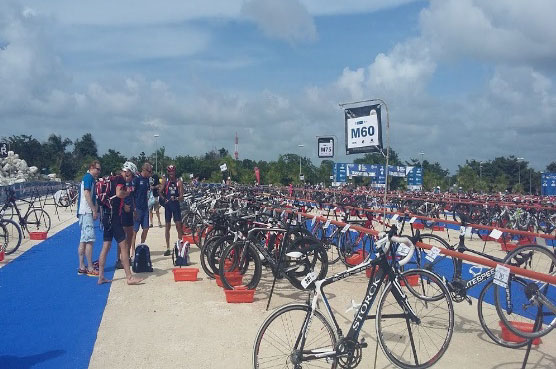 Following a briefing by our team manager about the do's and don'ts for racking and race day, we made our way to the transition area where we were checked by the ITU officials and bikes scrutinised.  As it was so hot,we had been warned to let the air out from our tyres to avoid them exploding. Unfortunately for a number of racers the advice fell on deaf ears; sure enough tyres were exploding!
Thursday – Race Day
Race day started at 0530 with a short trip to the transition area to prepare running shoes, bike shoes, elastic bands and generally putting talc on everything! After some warm up drills it was 0650 – start time. The 750m swim was a one lap course in the sea starting from a floating pontoon. I have been working hard on this section of my race for some time, and today it paid off with a 12:23 sec swim which is a PB by 1:20 sec. Exiting the water we had 350m run to T1 which included a run up and over a bridge!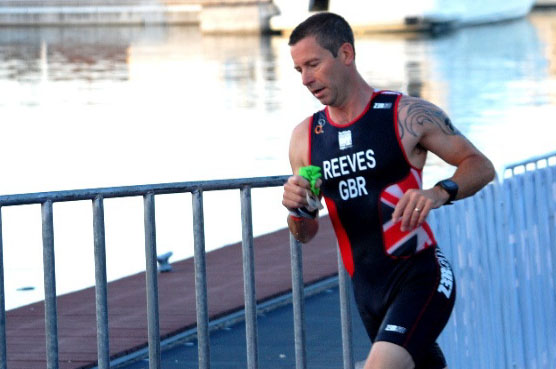 Having walked the transition area multiple times, I found the bike straight away and quickly got out to the mount line. With my shoes already attached to the bike I was able to take back two spaces just by having practised a flying mount. The bike leg was draft legal, so getting into a group here would be crucial to having a good race. Luckily I was able to get on the back of a Canadian and French guy who worked well as a team.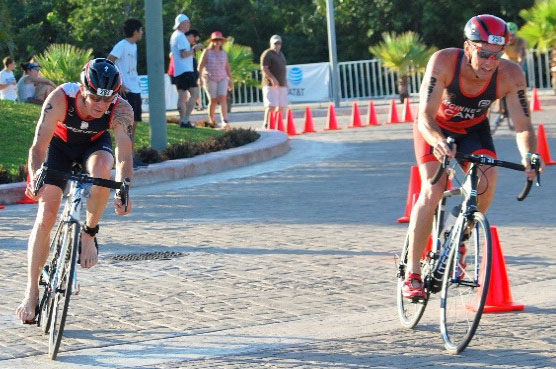 As we headed up the 20k out and back course the main group of some 40 riders came heading back towards us with a lead of about 4 mins. Nevertheless we sped on at a 41kph average. With the ride being incident free, we headed back to the T2 area. Again having practiced transitions over and over I was able to make up 4 places coming out in just over a minute.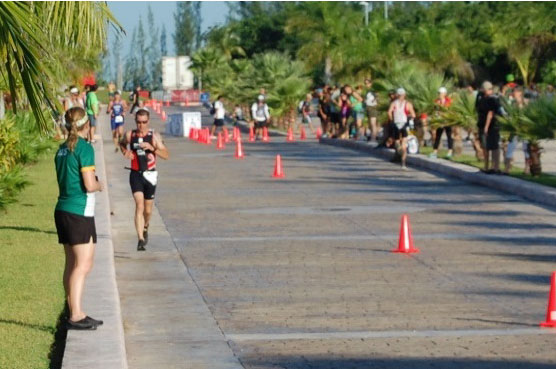 As soon as we started the 5k, one lap run it was obvious that this was going to be hard. The heat and humidity was oppressive and slowly drained all energy from us all. With average times down by around 30 seconds  per kilometre it was head down and survive from one water station to the next. I lost a couple places on the run, one to a Cuban guy who seemed to lapping up the heat, and had barely a bead of sweat on him. Finally the finish line was in sight, so checking behind found a Mexican chasing me down, but with a final push I was able to fend him off, all the way to the line, finishing in 1:10:02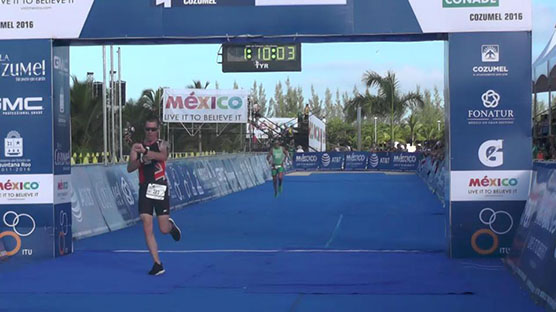 I could not have done this without the support of Julie, and my friends. Thanks